Chris van Rooyen
Marketer/Advertising Practitioner/Designer/Thinker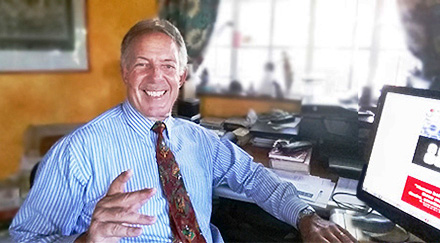 Chris has enjoyed 35 years in the Marketing, Advertising and Design
Industries along with being a founder of Internet Business, Business
Coach, Consultant and Strategist. Most of the 35 years have been
spent as Creative Director for companies such as Young & Rubicam,
Bates, McCann Erickson and Leo Burnett. This has led to a natural creative way of thinking and identifying marketplace opportunities.
Included in his experience is Business Training and Consultation in the areas of Formal Marketing and Business Behavior. When in the Advertising Industry Chris specialised in consumer behavior which has led to an acute understanding of consumer expectations at all lifestyle levels.
What is 'creativity'?
Creativity is not about 'cute' or 'attractive' or 'artistic'. Creativity is about doing things differently. Creativity is about finding new and better ways to do things. You can be a creative accountant, or builder, or housewife, or marketer. Being creative therefore is a state of mind.
Our primary focus lies in working with companies, both large and small, to help them realise their maximum potential regarding maintaining a consistent and meaningful impression in the marketplace.
Our strengths lie in the discovery of exciting potential that will maximise brand presence and elevate customer awareness in a highly competitive market.
Our aim is to ensure that marketing strategies, creative messages, staff and and media interaction with clients and prospects are fully understood and achieve their greatest potential.
Our philosophy adopts a strictly service-based approach towards the creation of the best possible practices and solutions.


SERVICES:
Our services incorporate all the disciplines within the EIGHT AREAS OF INFLUENCE. These may include all eight or only those that present potential for improvement.
Over and above Image Consulting services we offer Corporate Design, Product and Services Development, Public Relations and Image Auditing.
For further information please call me on 083 701 2008.


HISTORY:
Perceptione was launched as an independent advertising consultancy in March of 2007.
Perceptione taps into a network of individuals that have extensive experience in their respective fields, all of whom have done hard time in the marketing, advertising & media industries.